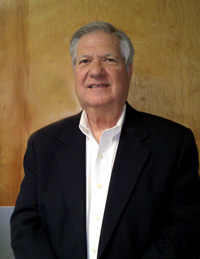 Rev. Phillip Sitton
Current Director
Rev. Phillip Sitton

Rev. Phillip Sitton completed his first semester as the conductor of the Baylor Singing Seniors this past May.  He graduated from Baylor with a degree in Church Music and completed his graduate work at Southwestern Baptist Theological Seminary.  He had served as Associate Pastor:  Worship/Administrator at Shearer Hills Baptist Church in San Antonio for forty years before retiring with his wife, Patricia, to Waco, where he began singing with the choir in the fall of 2011. In addition to his responsibilities with the Baylor Singing Seniors, Rev. Sitton served as organist for Calvary Baptist Church, Waco for the past year, and continues to serve there as Stewardship Administrator.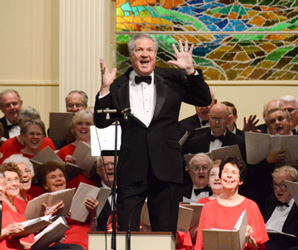 A Light Moment during a Recent Concert
Rev. Sitton is quick to point out that every conductor brings his own personality to the choir, his own musical insights and preferences, and priorities for effective singing.  When he took over in January of this year, sustaining physical and choral energy was his number one goal.  He feels the choir has done an excellent job in responding to that.  With music chosen for this fall and Christmas season, he expects to give more attention to producing a more lyric and harmonic quality to the choral sound.  But a very important priority, he insists, is for all of us to just have great fun with the music and with each other!
He feels extremely personally blessed to be able to work with this particular choir.  He feels that his life has really come full circle – he arrived first to Waco and Baylor in 1963 as a young musician, having been recruited and with scholarships arranged by Dr. Euell Porter.  He became one of Dr. Porter's accompanists and  studied choral music, voice, and conducting under Dr. Porter's expertise.  Now he has an opportunity to carry on a tradition that was very close to Dr. Porter's heart.  Phillip says "life doesn't get better than this!"
Contact: conductor@BaylorSingingSeniors.org
© Baylor Singing Seniors, Waco, Texas
Donated and Maintained by Meriage Design